Although misinformation poses an enormous challenge to Bangladesh, the number of well-planned projects, campaigns and training sessions for the journalists is almost non-existent. This project will contribute to filling this gap and achieve the stated goals in three phases.
Phase I: Identifying the Challenges of Misinformation Faced by Journalists in Bangladesh
The nature of misinformation campaigns and the medium through which they are perpetrated vary significantly by society. We strongly believe that to effectively curb the spread of rumors and disinformation, especially during politically volatile times of elections, the need to understand country-specific contexts and vehicles for misinformation cannot be overstressed. The problem of production and reproduction of misinformation is more acute in remote areas than in large cities due to access to training and adequate tools. Also, the development and research projects often overlook the regions outside the capital city. To address this problem, we propose hosting 10 dialogue sessions across 8 major divisional cities. It is our plan to meet with 130 journalists, including those who cover rural areas during election times and who are often underrepresented, such as women and ethnic minority journalists. During the dialogue sessions, we also plan to gather data on the existing state of misinformation by conducting surveys among the participant journalists.

Phase II: Developing Training Manuals and Producing Video Lectures
The information gathered from the first phase of dialogues with journalists will provide an opportunity for needs assessment. We believe that training materials must be prepared based on the information gathered directly from stakeholders. A manual for journalists which would help them identify misinformation will be drafted by three consultants. Additionally, five experts and practitioners will produce five 20-minute video lectures on misinformation which will be available online during this phase.

Phase III: Training Workshops and Promotional Activities
In the third phase of the project, a total of ten training workshops will be conducted across the country with journalists. Trainers who are subject matter experts will facilitate workshops and deliver training manuals and fact-checking tools to the journalists. For this, we plan to hire educators and practitioners trained in combating misinformation and rumors. Additionally, we will air five episodes of the talk show on misinformation, which will include senior editors and social media influencers, with the support of the partner organization. To build a permanent resource for battling misinformation, we will develop a website hosting manuals and lectures developed specifically for this project. There will also be social media features on the website that will facilitate communication among the participants. It would serve as a catalyst for building a community of fact-checkers within the Bangladeshi media. A follow-up survey after one month of training will evaluate the impact of fact-checking training on the news output of trained journalists. We expect a 50 percent increase in fact-checking. In addition to journalists and social media influencers being the primary beneficiaries of this project, it will create awareness and disseminate knowledge about tackling misinformation among the general public.

In its role as a partner organization, the Center for Governance Studies (CGS) will implement the project with the help of the project team. CGS will continue to maintain the project's website. Finally, CGS and the Project team will share a summary of the project with the US Embassy in Dhaka.
LATEST NEWS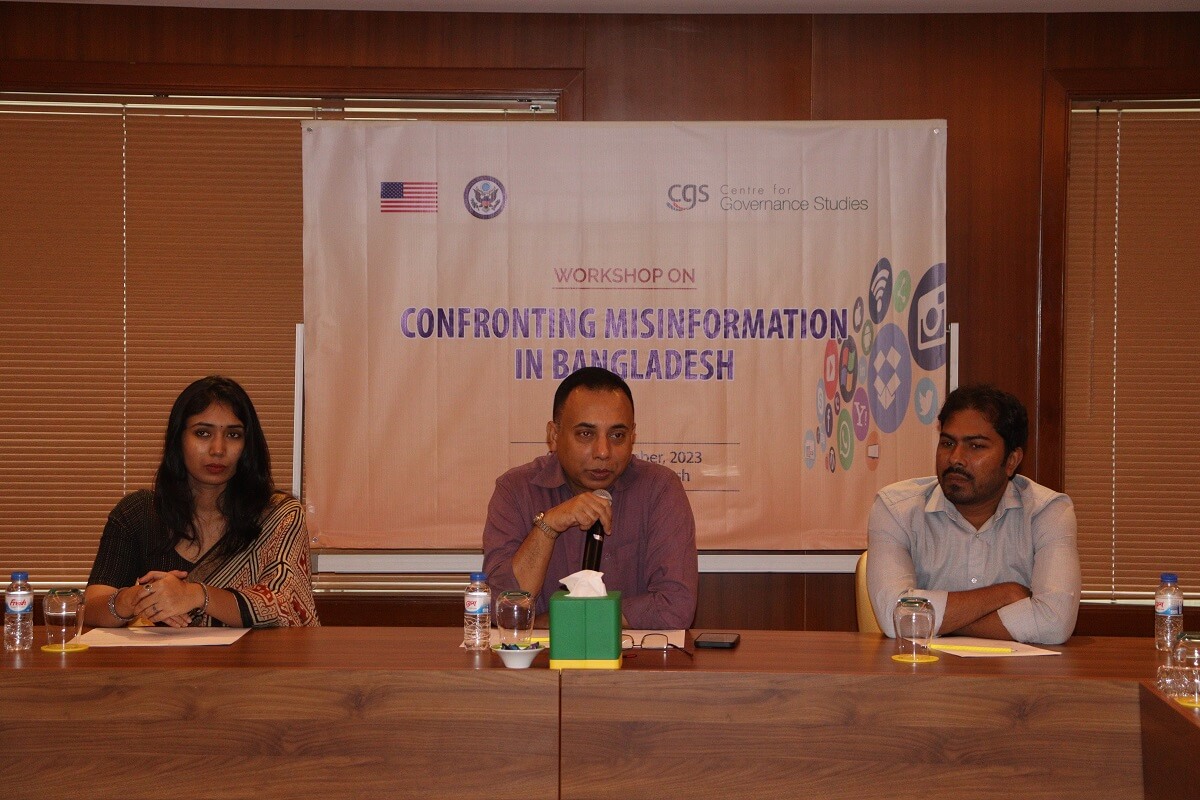 Workshop on Confronting Misinformation in Bangladesh | Dhaka | Day One to Three
06 Nov, 2023
View Details